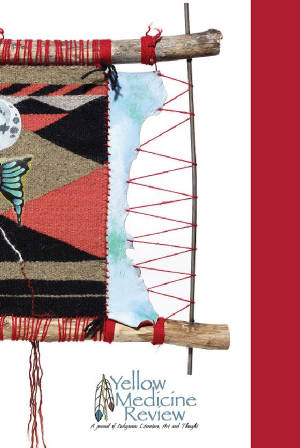 Two poems of mine are printed in the Spring 2014 issue of the
Yellow Medicine Review
: "The Choosing of the Babaylan" and "The Babaylan Sleep".
Guest edited by Carter Meland.
Cover art by Carolyn Lee Anserson.
Contributors are Anne Carly Abad, Patricia Albers, Scott Andrews, Alice Azure, b: william bearhart, Benjamin V. Burgess, Javier Caravantes, Hans M. Carlson, Pauline Brunette Danforth, Royce K. Freeman, Laura M. Furlan, Linda LeGarde Grover, Jane Haladay, Blake M. Hausman, Ernestine Hayes, Travis Hedge Coke, Alexis Ivy, Toshiya Kamei, Ryan Kanaiokahome Poiekeala Kanakaole, Cecelia Rose LaPointe, Larry Lefkowitz, Denise Low, Dwayne Martine, Molly McGlennen, Tiffany Midge, Carol Miller, Suzanne Zahrt Murphy, Tim Nuttle, Rebecca Pelky, Marcie Rendon, Pamela Rentz, Carter Revard, Heidi Andrea Restrepo Rhodes, Truth Thomas, Jay Hansford C. Vest, vera wabegijig, David Weiden, Kim Wensaut, Gwen N. Westerman, Diane Wilson, and Karenne Wood.